FORTY YEARS OF EXPERIENCE – A GIFT TO OUR COMMUNITY
The Hospice of East Texas marked its Fortieth Anniversary in 2022. The founding volunteers had a dream of bringing extraordinary care to East Texas. They offered it as a gift, creating a nonprofit organization committed to caring for everyone regardless of their financial situation, age, or complexity of care. The Hospice of East Texas remains committed to providing the best care possible for people living with serious, chronic or life-limiting illnesses.
YOUR COMFORT, OUR COMMITMENT
"The Hospice of East Texas became part of our family" – is a phrase we hear often and with great joy. Six full-time physicians who are board certified in end of life care work closely with qualified and experienced nurses and other professionals to offer the kind of care we want for our own family and friends. Governed by a distinguished, local Board of Directors, we offer nationally recognized excellence with local values and decision-making. When you have one chance to get it right, count on our forty years of proven service.
Our team of physicians include those who are full-time, board certified in end-of-life care and others with years of experience in family practice, internal medicine and/or pediatrics. Each have a practice-focus caring for patients with serious and chronic illnesses.
Our services are provided wherever you call home. Most patients receive our services in their own homes, assisted living or skilled nursing residences. If care needs increase or more intensive attention is required, we also offer HomePlace.
HomePlace™ is the only inpatient hospice facility in East Texas. It was carefully designed to feel like home with spaces for family and friends to gather and enjoy precious time together in a beautiful, peaceful setting. It is staffed 24 hours a day, 7 days a week with physicians, nurses, pharmacists, certified health aids and chaplains to make your stay comfortable.
Laura Ferguson, MD, Medical Director
Stacy Abernathy, MD
Royal Becker, MD
Michael Beets, MD
Amby Cline, DO
Craig Gunter, MD
Jason Holman, MD
Andrew O'Kelley, DO
Amy Swan, DO
Stephanie West, MD
Pediatrics:
Amy Starr, MD
Community Doctors:
James Low, MD- Jacksonville
Edward Johnson, MD-Palestine
Loyd Whitley, MD- Nacogdoches
Randal Vinther, MD- Nacogdoches
Nurse Practitioners
Cammie Bedell, NP
Melissa Crosman, NP
Amy Everett, NP
We thank those whose vision and tenacity created The Hospice of East Texas. Thank you to those who nourish its growth and service, to the board of directors, staff and volunteers who live out our mission every day, and to those whose financial support make this extraordinary care possible.
Merv Sanders, Director of Inpatient Care
Karli Fitzgerald, Director Outpatient Care
Dr. Kurt Lorenz, Director of Pharmacy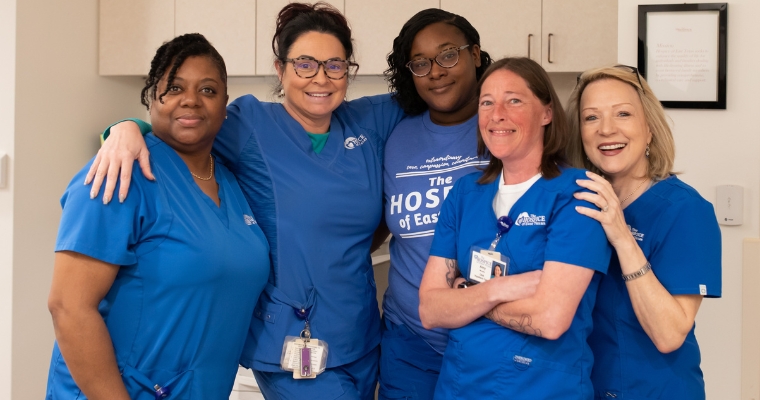 "…the entire staff was there with open arms for our family. They took exceptional care of our mom. Nurse Johnny spoke gently with me, explaining what was happening and what to expect – it gave me great comfort."
-Saul T.
"Brittany and Liz gave exceptional care to our mom – you could feel the love they have for their work and patients."
-Brandon W.
"We couldn't have asked for better care. You came day or night whenever he needed and always made sure I was ok too. Andrew passed Christmas morning. The Chaplain and Nurse were here quickly and stayed until I insisted they leave to celebrate Christmas with their families."
-Dani P.
"Dad loved everyone that attended to his needs! He always looked forward to your visits – I thank God for all you do for His people."
-Alexandra R.
"A special thank you to Emily and Selena for all they did. It was such a relief and a lifting of our burden when you all came in!"
-Michaela G.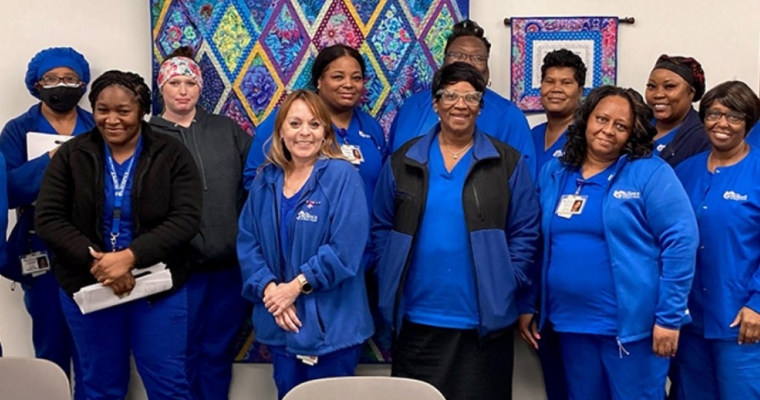 medical equipment delivery TEAM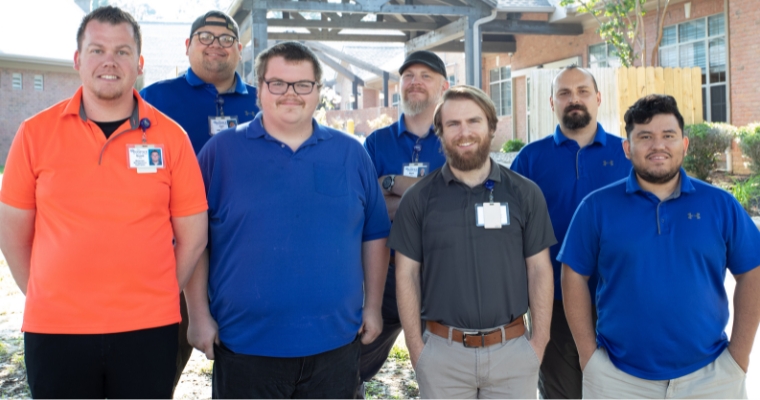 Often the first faces our patients and families will see is this amazing team who deliver medical equipment such as special beds, chairs, oxygen tanks and more. They serve and are on call 24 hours a day, seven days a week. While these gentlemen are not often the first professionals you think of when you think of hospice, their role is critical and greatly appreciated.
TRAINING THE NEXT GENERATION
One of the best ways to continue providing you with extraordinary care is to train the next generation. We are the only hospice in East Texas training future board-certified hospice and palliative care physicians. In partnership with the new Medical School at The University of Texas at Tyler, we are the first and only hospice able to offer Fellowship opportunities in hospice and palliative care. Dr. Laura Ferguson, our Medical Director, also serves as Director of Fellowships at The Hospice of East Texas. We also work closely with regional schools of nursing and pharmacy at Tyler Junior College and UT Tyler to train and recruit gifted nurses, pharmacists and social workers.
Accredited by CHAP (Community Health Accreditation Partner) since 2004, The Hospice of East Texas meets the industry's highest nationally recognized standards for quality care and commitment to continuous improvement.
The Hospice of East Texas received the Hospice CAHPS (Consumer Assessment of Healthcare Providers and Systems) Award of Distinction from SHP (Strategic Healthcare Programs) in 2022, recognizing our superior performance. We scored above the national average for each Hospice quality measure from the caregiver's point of view.